Strand
05.04.2020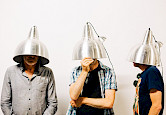 Abgesagt wegen Corona-Pandemie
Strand - no ordinary band
Niall Toner jr began playing in a post-rockabilly/ garage rock band in the late 1980s called Those Handsome Devils. This didn't last, but then he had the idea of starting a band with his dad, also a musician and also called Niall. This was called Hank Halfhead and The Rambling Turkeys and we played honky tonk and country rock when it was so uncool it was cool. They started playing tiny venues in the city and graduated up to bigger ones, ending up in The Olympia Theatre in Dublin, where they would be joined on stage by people like Rory Gallager, the legendary guitarist, Guy Clarke , Mike Scott from the Waterboys and Flaco Jiminez, the Tex Mex accordion player (this is the period of my career the journos always get excited about). They also toured with our hero Johnny Cash.
Niall left to pursue his own guitar four piece The Dixons (he was replaced as front guy in HHRT by singer/ songwriter Glen Hansard). The Dixons signed to U2's Mother Records and released a single 'I Have Fun' a Stonsey track with a cool organ solo in the middle that went to No 12 in the Irish singles charts. After a couple more singles and a mini LP, the band sadly split and Niall went on to play with Irish pub rock supergroup the Cajun Kings and then toured with Eleanor McEvoy on guitar.
More recently he made a record with Jonny Rowen, formerly of the Dublin band Pelvis, but last year finally put out one where he has done all the work. On Can't Trust The Rain, Niall is helped by a bunch of extraordinary musicians, including guitarist Ger Kiely, guitarist Duncan Maitland (Picturehouse/ Pugwash), producer Les Key on bass, drummer Kevin Malone (Van Morrison, Sinead O'Connor) and keyboard player Darragh O'Kelly (Republic of Loose). His latest music carries a lot of influences, but in its beating heart lie the ghosts of Gene Clark and the Byrds, Neil Young, Stephen Stills, Big Star, Love, Captain Beefheart, Willie Nelson, George Jones and Gram Parsons, to name but a few. But it is as close to Niall's authentic voice as he has come yet.
weitere Info...
---
zurück

<! -- Ende footer -->