David Lee Howard
04.08.2017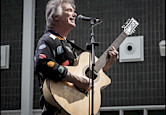 Extraordinary 12 String Guitar and Vocals
In over 40 years of professional musical experience, 12 String Instrumentalist and singer songwriter, Dave Lee has a load of original material as well as amazing covers!
An International Award winning artist and major music festival headliner who's critically acclaimed live show always delivers – from his yearly tours in Europe to local gigs in the Pacific Northwest!
An absolute magician on the 12 string guitar who delights every audience with his fresh, energetic and unique perspective. Ask about Private Concerts!
weitere Info...
---
zurück

<! -- Ende footer -->