Mike Spine
05.05.2017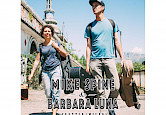 Mike Spine aus Seattle im Bundesstaat Washington ist bekannt für seinen fesselnden Auftritt, seine anspruchsvolle Texte und seiner Stimme.  Hinter ihm stehen 22 Jahre Bühnenerfahrung mit hunderten von live Auftritten.
Er ist mal wieder auf Tour um seine 10. CD, "Forage & Glean, Volumen I & II" bekannt zu machen.  Mike auf Gitarre und Gesang wird begleitet von Barbara Luna aus Milan am Klavier, auf der Geige, Gitarre und Gesang.  "Forage & Glean" ist eine Doppel CD mit das beste aus den letzten 20 Jahren.
Wenn nicht auf Tour arbeitet Mike als Lehrer und ist Aktivist für Gerechtigkeit in soziale, wirtschaftliche und umwelt Fragen.  Hierzu hat er zahlreiche Benefiz-Konzerte in mehreren Ländern gegeben.
Er teilte schon öfters die Bühne mit anderen Künstlern wie Mike Watt (Iggy Pop & The Stooges, Minutemen), Creedence Clearwater Revisited, Los Lobos, Damien Jurado, Artis the Spoonman (Soundgarden), Johnny Sangster (K.D. Lang, Neko Case, Laura Veirs), Omar Pedrini, Pall Jenkins (Black Heart Procession, Three Mile Pilot), Dick Valentine (Electric Six), Stef Burns (Alice Cooper, Vasco Rossi), usw.
weitere Info...
---
zurück

<! -- Ende footer -->